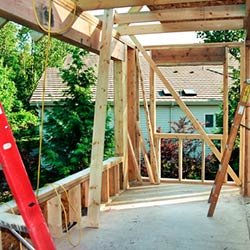 Building new home construction from the ground up is one of the most exciting and fulfilling experiences that a homeowner can have—it gives you every opportunity to ensure that the place you call home has everything you want and need to feel comfortable. When the time comes to plan and execute new construction for a home build, make sure you're working with Hill's Construction, LLC.
Home Additions & More
We approach every new home construction project with an eye for architecture first and foremost, ensuring that your home, when constructed, features the layout, functionality and amenities that you envisioned during the planning phases. From the studs that hold your home together to the unique implementations within it, we're here to ensure that you're fully satisfied with your home—everything that it is and everything it will come to be in the future.
Best of all, if you're already in a home you love, but need some space to accommodate your growing needs, Hill's Construction, LLC is happy to work with you to implement home additions. From adding windows and doors to expanding your kitchen or building out a living room, we have experience with new construction in laying down square footage for existing homes no matter the demand. If you're in Willmar, Kandiyohi County, or Pennock, MN, contact us today for complete residential contracting services!